At Baroque we are making sustainability a big part of our ethos, from how we select our diamonds and gemstones, the precious metals we work with and even the cleaning products we use in our shop!
So here are our top 5 sustainable options to consider when you are choosing or creating jewellery with us.
Recycled Gold
We use recycled gold for all of our gold wedding bands and if you are creating a commission this option is also available too. Most jewellery that is advertised as recycled only uses the bare minimum, such as recycled plating or a small percentage of solid recycled material, whereas we use 100% recycled gold in both 9ct and 18ct purities. By choosing this sustainable option, you don't have to worry about the environmental damage that comes from commercial gold mining. The process of extraction not only disrupts ecosystems but can also affect biodiversity and natural water sources, so by choosing recycled gold, you can cut that environmental damage out of the equation – making your jewellery eco friendly as well as beautiful!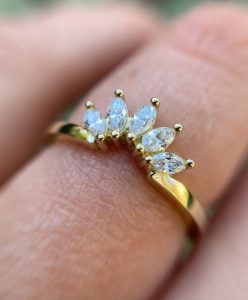 Check out our blog 'Bespoke Jewellery that doesn't cost the Earth' for more details on recycled gold.
Fairtrade Gold
We are one of only 100 jewellers that are Fairtrade gold certified in the UK, which is something we are proud of! By choosing Fairtrade, it means the process of extraction and the working environment is safe and ethical, for the hardworking miners that work in extreme and sometimes dangerous conditions. Fairtrade means they are paid a fair wage for their work as well as the gold they mine. It also means they can use their fair trade premium to help improve local resources from health care to better education for the local area and the miner's children. We are passionate about creating an ethical supply chain within all of our jewellery, so we don't add any charge for the use of fair trade gold, making ethical options available for everyone wanting to create something special.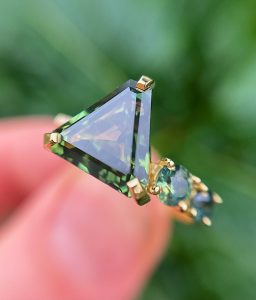 Ethically Sourced Gemstones
We are always looking for ways to go that step further and make sure the stones we use are not only ethical but also sustainable and we have strong relationships with a selected few suppliers that share our ethics. We have a wonderful supplier for our Australian sapphires and opals, who follows an ethical practice meaning their process is fair for everyone involved as well as being fully traceable. The process of mining sapphires is different from diamonds as they are found closer to the surface meaning that the mines are smaller and can be filled back over leaving a smaller environmental impact. So if you are thinking of an ethical and more sustainable option within gemstones, consider a sapphire! They can be found in a mesmerising range of colours, shapes and sizes and could be the perfect gemstone for you.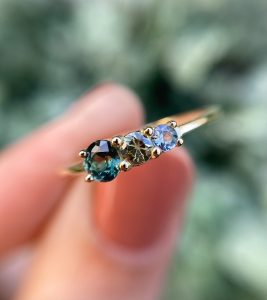 Kimberly Standard Diamonds
We use the Kimberly standard for all of our diamonds, meaning all of our suppliers abide by the rules and follow the Kimberly standard process. We understand that the Kimberly Process isn't a faultless organisation but currently it's the only governing body that is actively making change within diamond trading. Having said this, the suppliers we use are going above and beyond to make sure the sources, the mines and the workers are in safe and positive environments. For example, we use lots of beautiful Botswana diamonds as they are mined, cut and sold all within the country, this has led to a monumental shift from being one of the poorest countries to now having a successful economy, as 80% of the diamond profits stay within the country, and is used to helps citizens access free health care and education.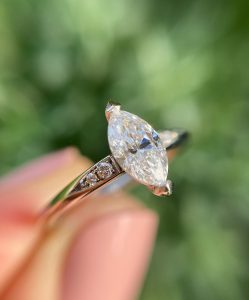 Lab-grown Diamonds
You may have heard the buzz about lab-grown diamonds and yes they are real! Lab-grown diamonds are created from a diamond crystal and grown with high heat and pressure, mimicking the conditions needed to grow diamonds the 'natural' way. The result is a 100% real diamond, and lab-grown diamonds have the identical optical, chemical, thermal, and physical features of a mined diamond but without any of the unethical sourcing issues. Another perk to lab-grown diamonds is that they can have incredible clarity and colour, within a much more affordable price point, meaning you could create your dream jewellery within your budget and have a beautiful diamond with show-stopping sparkle.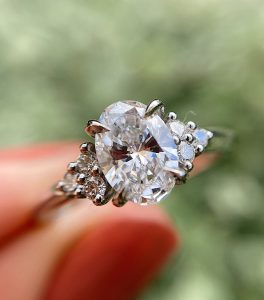 Feeling inpired to create something magical or want to find out more?
Drop us a message or come in store and see all our bespoke creations, and don't forget to Check out our instagram and signup to our newsletter to see all our latest designs, gemstone and diamonds!
Instagram: @baroquejewellery
Website: www.baroquejewellery.com
Email: info@baroquejewellery.com