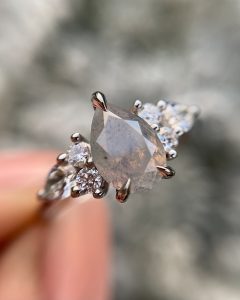 At baroque we like to do things differently and this starts in our onsite workshop, where we handcraft all of our bespoke jewellery. We are lucky enough to have some of the most talented creators and designers in our team, meaning Each piece is soldered, filed and set by hand. As well as our beautiful bespoke collection in store we also offer a bespoke commission service, which means we can bring your dream jewellery to life! 
The Baroque commission service is such a fun and exciting process. We start with a private appointment to talk through your ideas, try on different jewellery for inspiration and finalise all the fine details. If you are having stones set into your piece the next step is sourcing.
From your ideas we will then work our magic and find you a wonderful selection of stones to view. When they are ready we will invite you in to choose your very own stone. From there its off to the workshop, our incredible jewellers will bring all your ideas to life. We will stamp your piece with our Baroque stamp, box it up and its ready for collection. 
We love capturing these special moments in our jewellery and feel the bespoke commission process is the perfect way to make memories last forever.
Want to get started?
 Give us a call or drops us a email and we can book you in for a Bespoke consultation.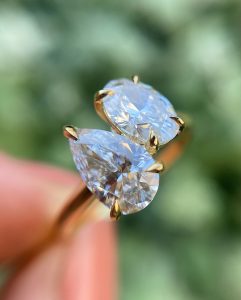 F.A.Q's
How do you choose your design?
Creating your own piece of jewellery is a one in a life time oppotunity, so to make sure you get all the time you need, We offer a private appointment to explore all your ideas. While you are with us you can try on all sorts of jewellery to get inspiration and cherrypick all the parts you would like to bring into your design. We also recommend going on pinterest and bringing some pictures with you to help us see your vision.
How much does it cost?
 There is no additional cost for making a bespoke creation and we will work within your given budget to create your piece. However due to the nature of the creation process being very in depth we start commissions at £1000.
How long does it take?
Our average turn around for bespoke peices is 8-10 weeks, but this time frame does also depend on design and stone sourcing.
Can you create a bespoke piece even if you can't come in store?
Yes, We are lucky to have customers all over the globe. Instead of face to face we can talk via email, phone call and video chat. We will send pictures of designs and stones so you can still be part of the whole process! Once your piece is ready we will post it out to you.
Still have a some questions?
Feel free to contact us anytime or pop in store.
01273 777003