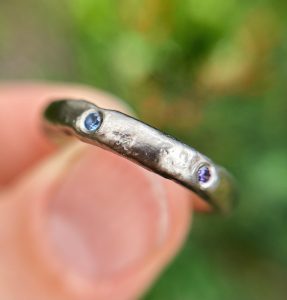 At baroque we like to do things differently, we love not only creating unique and one of a kind handcrafted pieces but we want sustainability to be a big part of our design and creation process.
That is why we are proud to offer a range of sustainable options at no extra cost. Meaning you can create beautiful pieces that don't cost the earth. We are one of the few jewelers that use recycled gold, the full 100%. Meaning all of our pieces you can see in-store or on our website are not only bespoke designs but Eco-friendly too!
What makes our jewellery Eco-friendly?
Industrial jewellery mining sadly creates a lot of stress and a negative impact on the environment. Mining just one gold ring creates 20 tons of mine waste. Not to mention leakages of harmful chemicals, the emissions from large scale machinery and the damage to surrounding ecosystems. So by choosing recycled gold, you are taking out of the equation a lot of that environmental damage, meaning your ring will be filled with earth-saving good karma!
We can also offer a bespoke recommission service meaning you can up-cycle family heirlooms and other beloved jewellery that might not be quite your style anymore. Our molten collection works perfectly for any up-cycling commissions as old metal can sometimes crack whilst being manipulated if it contains impurities. Alternatively, we can still use preloved jewellery and heirlooms in all of our collection but we might need to use some extra metals to create the finished product.
F.A.Q's
Will it look different because it's recycled gold?
There Is no need to worry, although the gold is recycled there is no difference to the finished product. All of our gold rings in the store are made from our 100% recycled gold, from our classic coco collection to the unique rose and thorn collection.
See the link below and to view our full recycled gold collections.
Will it cost more because it's Eco-friendly?
Not at all, at baroque we want to make sustainable and Eco-friendly options easy and affordable, so there is no difference in price. We pride ourselves on being one of the few jewelers that offer so many different options for sustainability. But we don't just stop at the making of our pieces, we are incorporating more Eco-friendly practices throughout our shop too, from the products we use for cleaning to our jewellery packaging.
What about Fair Trade gold rings, are they still Eco-friendly?
We are proud to be one of only 300 jewelers to be fair trade gold registered. Fair Trade gold not only makes sure their workers are cared for and paid fairly they are also using better techniques and machinery to help reduce the impact on the environment, making this another great option for sustainable and Eco-friendly jewellery.
Feeling Inspired?
Come in and chat with us about all our sustainable options, try on some rings or show us what heirlooms you would like to recommission, We would love to hear your ideas and help you create the perfect design.