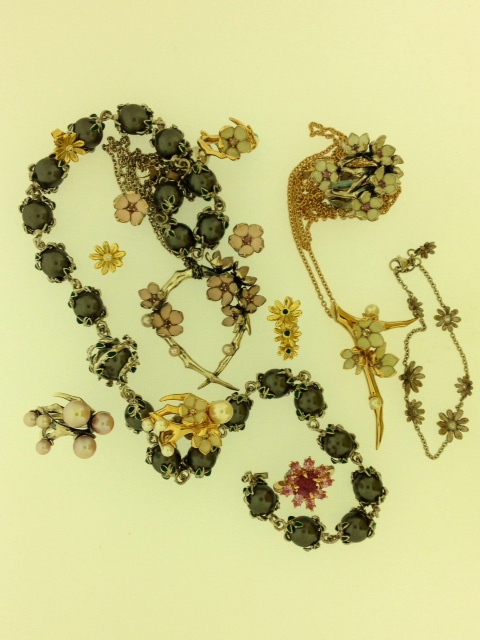 Floral decorative jewellery has always been one of jewellery's favourite themes, but what makes this selected collection slightly different is the mixture of materials and styles used:
Shaun Leane's Cherry Blossom collection uses enamel to give the petals on his pieces a realistic and delicate look. Leane has also taken a modern twist on his Cherry Blossom pearls by imitating blossom buds Leane brings a more contemporary feel to the once traditionally 'thatcher-esuqe' pearls.
Jason French's Rose gold, rough Ruby and Sapphire ring is another note worthy piece in this collection. The use of rough gems is starting to catch on amongst the jewellery world, and this ring's crowning centre piece is a giant rough Ruby. The wonderful thing about this ring is that it is completely unique, the gem is being celebrated in its natural state and it is definitely out of the ordinary as most of Jason's pieces are.
The last exciting piece worth shouting about is the new-in-store Kasune Swarovski Pearl collection. Designed around the idea of 'new beginnings' the collection showcases the very new and up and coming Swarovski Element pearl. Incredibly realistic and flawless we're sure to see these around a lot more in the new year.
For wish list updates and prices click on this LINK and like our facebook page.