Here at Baroque Bespoke Jewellery we are pioneers of Fairtrade jewellery & are proud to have been the first jewellers in Brighton & East Sussex to offer Fairtrade gold to our customers for 8 years.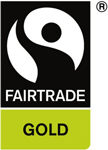 The symbol of Certified Fairtrade Gold stamped within the band of your ring is a guarantee that the gold has come from a sustainable and ethical source and only certified jewellers can use this mark. When you buy Fairtrade (the same as coffee, chocolate and bananas) you know where all the components of your jewellery originate. The Fairtrade Foundation, which is the world's first independent ethical certification system for gold, is working hard to keep the transparency and only collaborate with legitimate Fairtrade suppliers.
By buying Fairtrade jewellery you are supporting decent working conditions, the small mines and their workers and families, who get fair wages for their work.
It benefits not only the individual and their family but also the surrounding area as the miners can invest in projects to improve their communities such as healthcare, clean water and education – all things that we take for granted. It has a positive impact on the environment too as the Fairtrade Standards covers environmental protection such as pollution, energy and carbon emission reduction.
Our new fully Fairtrade gold collection is available to shop here in conjunction with Jewels of Queensland.