Fairtrade Fortnight
For two weeks each year from the 21st February to the 6th of March, thousands of individuals, companies and organisations across the UK come together, to share the stories of the people who grow our food and drinks, mine our gold and grow the cotton in our clothes. Highlighting the importance of Fairtrade and inspiring people to support the fairtrade foundation through what they buy, create and who they work with.
We are very proud to be one of the few jewellers in Brighton that offer Fairtrade Gold. We are passionate about making jewellery that is not only beautiful and bespoke but ethical and sustainable too.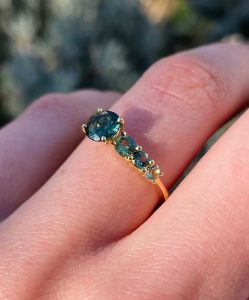 So, Why choose fairtrade gold?
Sadly the gold mining industry is rife with exploitation and the working conditions can be extremely dangerous, however together with fairtrade we want to change this. We believe that workers and miners should get a fair trade for their work as well as their gold. We believe all miners should be entitled to workers rights and properly implemented health and safety, intern leading to job security and a sustainable livelihood.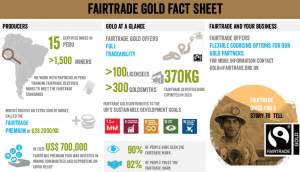 Baroque and Fairtrade
We want to make Fairtrade an option for everyone,  any of our collections or bespoke commission can be created using fairtrade gold. We are always happy to talk through our ethical and sustainable options, as it is something we are extremely passionate about.
At Baroque we don't offer any extra charge to create our pieces in fairtrade gold as we want to inspire people to choose fairtrade and Highlight the beauty of bespoke ethical creations.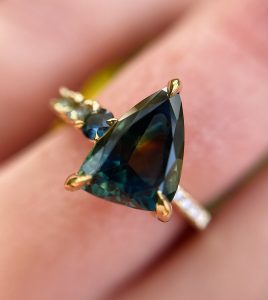 The Fairtrade Collection
Inspired by sustainable Gemstones and ethical gold. Each piece has been handcrafted and designed in our brighton workshop.
This carefully thought-out collection is a ode to a greener future and a sustainable and ethical way of creations and design. As well as using Fairtrade gold for this collection. We have also included Canadian diamonds for the shoulders. These mines have some of the highest environmental standards, are conflict-free and undergone a certification process that allows the stones to be tracked from mine too workshop. For our central stone we have used ethically sourced sapphires, their colour is rich and beautiful and each stone is fully traceable from Queensland Australia.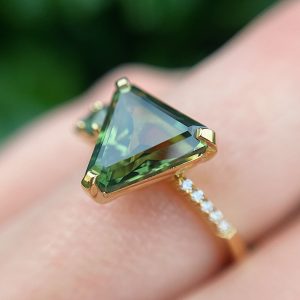 18ct fairtrade gold and Freeform, ethical sapphire and Canadian Diamonds.