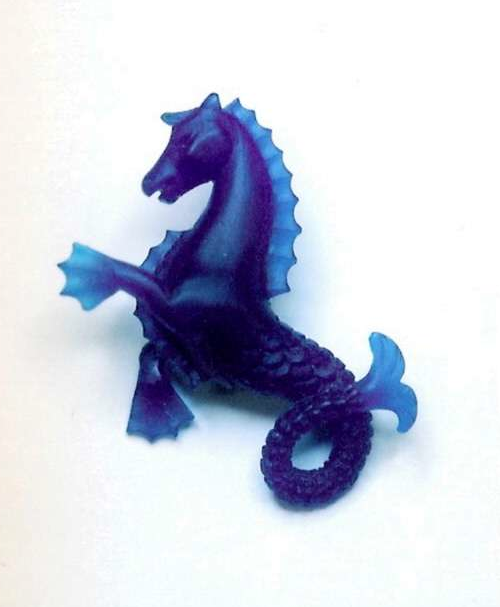 If you ever have the opportunity to meet Russell Lownsborough, you would most probably agree that he's quite an interesting character, and talented not to say the least. Good wax carvers of the jewellery trade are a rare breed- it's a skill that is laborious, tricky, and without having to point out the obvious- you have to be good at it.
Growing up in a secluded haunted abattoir in the Derbyshire hills, failing school and then navigating his way into the realm of jewellery almost by accidental fate, Russell has lead an interesting, aberrant life. Throw in his underlying passion for ancient mythology, lore and  the preternatural and we get Russell's wonderful collections of wax carved trinkets and treasures including his collaborative collection with Danila Tarcinale which we proudly display here at Baroque. Admittedly his pieces aren't for everyone- they are quite different from conventional jewellery designs, but if the unordinary is your thing then we highly recommend taking a look. Whatever your taste, if you have the opportunity to see Russell's work, you would most probably agree that his creations are meticulous, beautiful and magical…
Thank you to Russell for doing the Baroque interview. To see more of Russell's work please check this out
[1] Tell us a little bit about your background (where you grew up) ?
I grew up in the Derbyshire countryside on top of a hill that was often completely cut off during harsh winters. The house was a converted abattoir and full of ghosts, the nearest village a mile away. I spent my pre-teens exploring in the local woods and in the company of animals, outside school I came home only to eat and sleep. Horses fascinated me, and I spent a lot of time studying their breeds and anatomy. Back then I could name every bone, muscle group and body part. Even now, they're still my favourite animal to sculpt or draw.
At the age of 13, my parents finally decided to go their separate ways, I went down the hill and across the county border to Sheffield, a city once famous for cutlery, steel and silverware.
 [2] Any inspirational people whilst you were growing up ?
My grandfather. An engineer, mechanic, and amateur inventor; he was eccentric, unconventional and something of a dandy, like some sort of prototype Steam-punk. Sadly he died before my career had covered much ground, but I like to think he's looking down and smiling. He left me the contents of his workshop and I still use some of his tools in mine.
A far greater influence, however, would be the Gods of Olympus. At a very early age I became obsessed with Greek Mythology, thanks to the film Jason and the Argonauts, with it's creature effects by Ray Harryhausen, who died very recently. I was subsequently drawn in by the equine creatures in the myths, which are replete with them, centaurs, pegasi, hippocampi. However, on account of this, I became a voracious bookworm. One book leads to another, and my insatiable desire to learn more has led me from mythology to history, philosophy, archaeology, anthropology, psychology and of course the endless ideas, worlds and inspirational characters of literature.
 [3] Where are you based now ?
I set up my first studio in Clerkenwell in 1991. Currently my studio is in Hatton Garden, in the heart of London's Jewellery Quarter. I share the studio with Danila Tarcinale, my colleague of 20 years, friend and co-conspirator in The Travelling Jewellery Emporium.
 [4] Had you always wanted to do jewellery ?
In retrospect, jewellery always fascinated me. I've a number of pieces of antique costume jewellery that I've had from an early age. I kept them in a miniature inlaid wooden treasure chest, which I also still have.
Another formative experience was a visit to the British Museum, I specifically wanted to see a 4,500 year old Sumerian sculpture, The Ram In The Thicket, made from Gold, Silver, and Lapis Lazuli. I'm not even sure how I knew of it's existence, I still visit it from time to time, it changed me in some way, and it's my sharpest childhood memory.
As a career choice, it was pure coincidence or, depending on your point of view, fate or simply inevitable. I left school with a fistful of A-level fails, thanks to a lack of interest in school and my ever increasing interest in 'alternative culture' with all that implies, dope, mushrooms, gigs etc. Having no idea what to do with myself, I figured maybe I should try an evening class. I glanced through a list in my local paper and for no apparent reason an evening class for Silversmithing caught my eye. "I wonder how you do that ?" I thought. City and Guilds led to Foundation Studies and a Degree from Central St. Martin's, the rest as they say is history.
 [5] What got you into waxcarving ?
Despite two C&G certificates with distinctions and several awards, there were still forms that seemed impossible to make from sheet, wire and tube. During my first term at CSM, we had a brief and cursory introduction to wax-carving. I knew this was what I'd been missing, I'd found my medium. All it needed was years of hard work and intense concentration.
 [6] What is the inspiration behind your jewellery ? Any particular themes you enjoy working with ?
Almost all my work is figurative. Mythology is a frequent theme, as are animals, especially fantastical hybrids. My mum was an antique dealer, from the age of twelve she had me running stalls at fairs, and the house was like a museum. As a consequence I developed an abiding love of antique curios, indeed anything old. Most of my work is designed to look old, even the Sci-fi influenced work from very early in my career was intended to look like the ancient archaeological remnants of an extinct alien race.
The older I get the easier inspiration comes, it's now like a tap I can't turn off. I've got a pile of notebooks full of designs and concepts, enough to last several lifetimes. The more you look, the more you find.
 [7] What collections do you have on right now ?
I'm slowly adding to each of my current collections. Especially the Sea Treasures collection, which is currently the subject of a song by Smashing Pumpkins violinist Ysanne Spevack, The Mermaid Song. From now on I'll be making a donation to the Sea Shepherd Conservation Society every time I sell a piece from this collection.
I'm currently experimenting with a new method of adding colour to my work using, but only time will tell if this bears fruit.
Also in the pipeline are two new collections, the first is inspired by the Anglo-Saxon legend of Weland Smith, an exquisitely dark medieval tale of vengeance and jewellery.
The other is inspired by architectural details from the House of Lords. I'm working on the designs for this latter collection with an very old friend from Sheffield, we've been friends for thirty-nine years now. He was made a Lord a couple of years ago, so we're abusing his House of Lords photographic privileges. We'll be making donations from sales of this collection to 38 Degrees.
38 Degrees is the one of the UK's biggest campaigning communities, with over 1 million members. 38 Degrees is people-powered. They don't take money from political parties, government or big business. They rely on donations from thousands of 38 Degrees members from all over the UK to make change happen. The people's lobby group, proper democracy.
 [8] Any for us to look forward to right now ?
There's a Mermaid coming your way very soon, although considering my current client obligations, that could mean 'sometime before xmas'. As usual I'm working on collections for several designers at the moment, which naturally I'm not at liberty to discuss, so as you can imagine progress on my own collections is pretty slow.
 [9] Recommended places to do in London ?
The Sir John Soanes Museum, the former home of the Neo-Classical architect, a hidden gem that houses his collections. The Temperate House in Kew Gardens is a favourite spot too, a Victorian masterpiece, as is the Natural History Museum, never mind the exhibits, the architecture is breath-taking. The Silver Gallery at the Victoria and Albert contains some astounding work, just next to it is a collection of snuff boxes from The Gilbert Collection which are exquisite.
 [10] Past-time hobby other than jewellery ?
Ha, are you suggesting jewellery is a hobby for me ? Well you're right, my hobby is hanging out in my studio with my friends listening to music, making jewellery, inventing and building displays for The Travelling Jewellery Emporium and generally doing what I love best. Fortunately people like to give me money for doing just that, awards too… which is nice.
Outside of jewellery, most of my hobbies are fairly academic, I'm currently working my way through the entire history of Rome. The late Roman Empire as it transitions into the Byzantine Empire and lays the groundwork for the medieval world is a fascinating era, and it's amazing to discover where so many of the concepts that formed the western world had their origin. Although Ancient Greece is the root of western mathematics, science and philosophy, Rome is the origin of the more practical aspects of western society.
Another favourite topic is, as I've already stated, is mythology. Presently I'm researching obscure aspects of comparative mythology regarding smiths, many of the names are etymologically similar and curiously many of them are deformed, crippled or outcast, suggesting a common origin to various myth cycles.
I also enjoy blowing my mind with the occasional book on Quantum Physics.