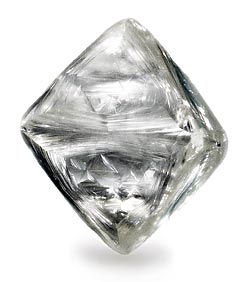 As you know we are lovers of the Unusual, Unique and the Untamed beauty of jewellery design. Although the Uncut Diamond is not the most popular choice its is definitely a natural choice and one we would most certainly recommend to those seeking an alternative diamond engagement ring.
Untouched Beauty
In a rough cut stone the notorious light and sparkle of the diamond is something of a more subtle beauty. Untouched by man the uncut diamond has not undergone any polishing cutting and shaping by the human hand. In choosing an uncut stone you will find the process extremely personal, abandoning all notions of the 'ideal' proportion instead leaning towards an attraction based on your natural instinct and the stones natural form.
A popular choice with our customers is to mix the polished with the rough to gain rich contrasts of colour and light and texture.
This rough brown diamond brings a unique narrative of  the diamonds origins without sacrificing the the equally mesmerizing sparkle of the polished gem. Set on the wavy shank the overall feel is organic and harmonious.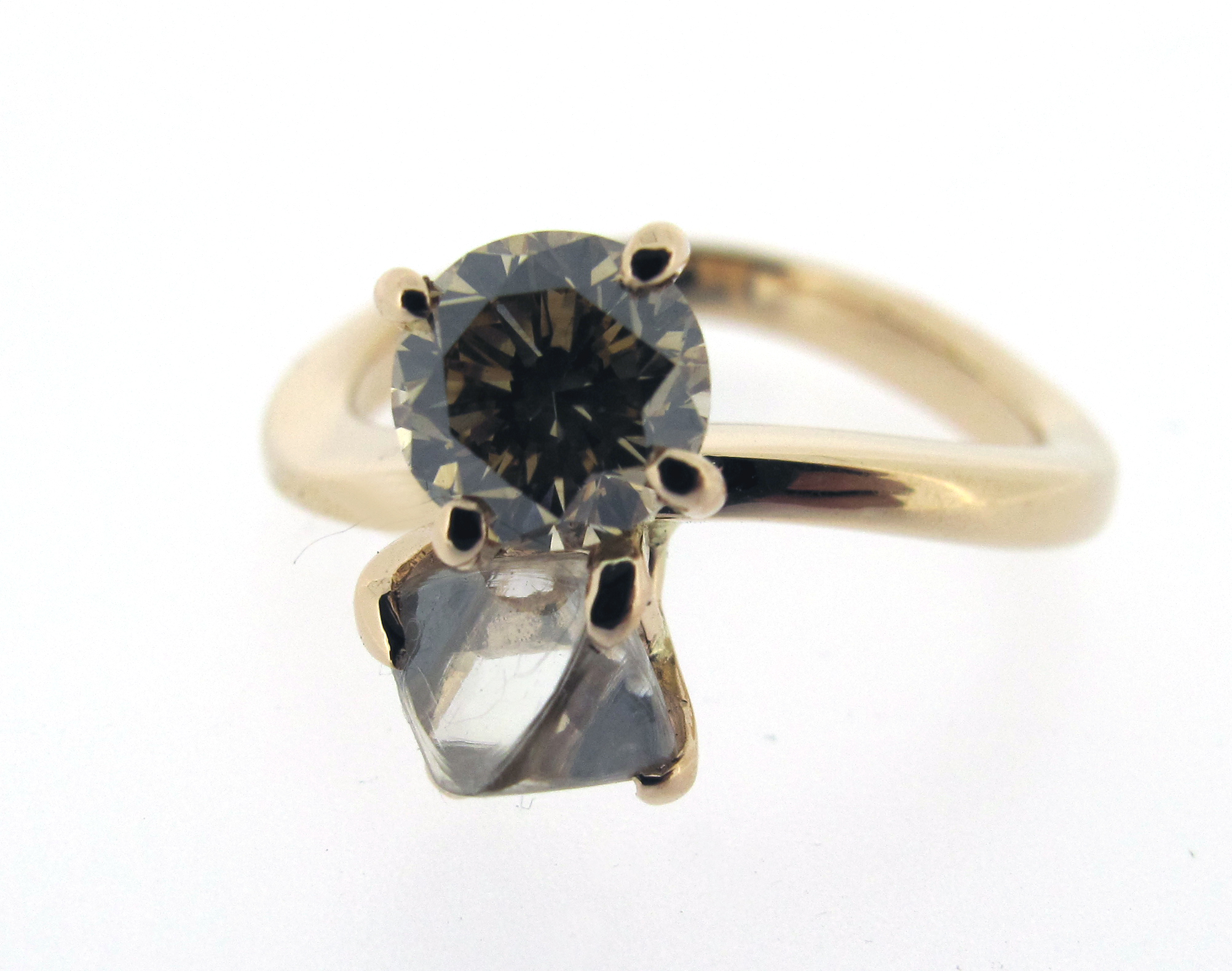 Beauty As Nature Intended
Whilst inclusions and blemishes may in one instance lower the desirability of a cut stone these same apparent imperfections become part of the Rough's character and story celebrating these distinct inclusions which add depth and curiosity. The uncut Diamond provides us with pure beauty just as nature intended and although it is true to say one diamond is never the same as the next this is so much more apparent in its natural state. Taken straight out of the ground each crystal is totally unique and although polishing techniques allow for all sorts of fancy cuts, every raw stone is its own unique shape and colour making it the perfect choice for a Bespoke piece of jewellery handmade specifically for you and your stone.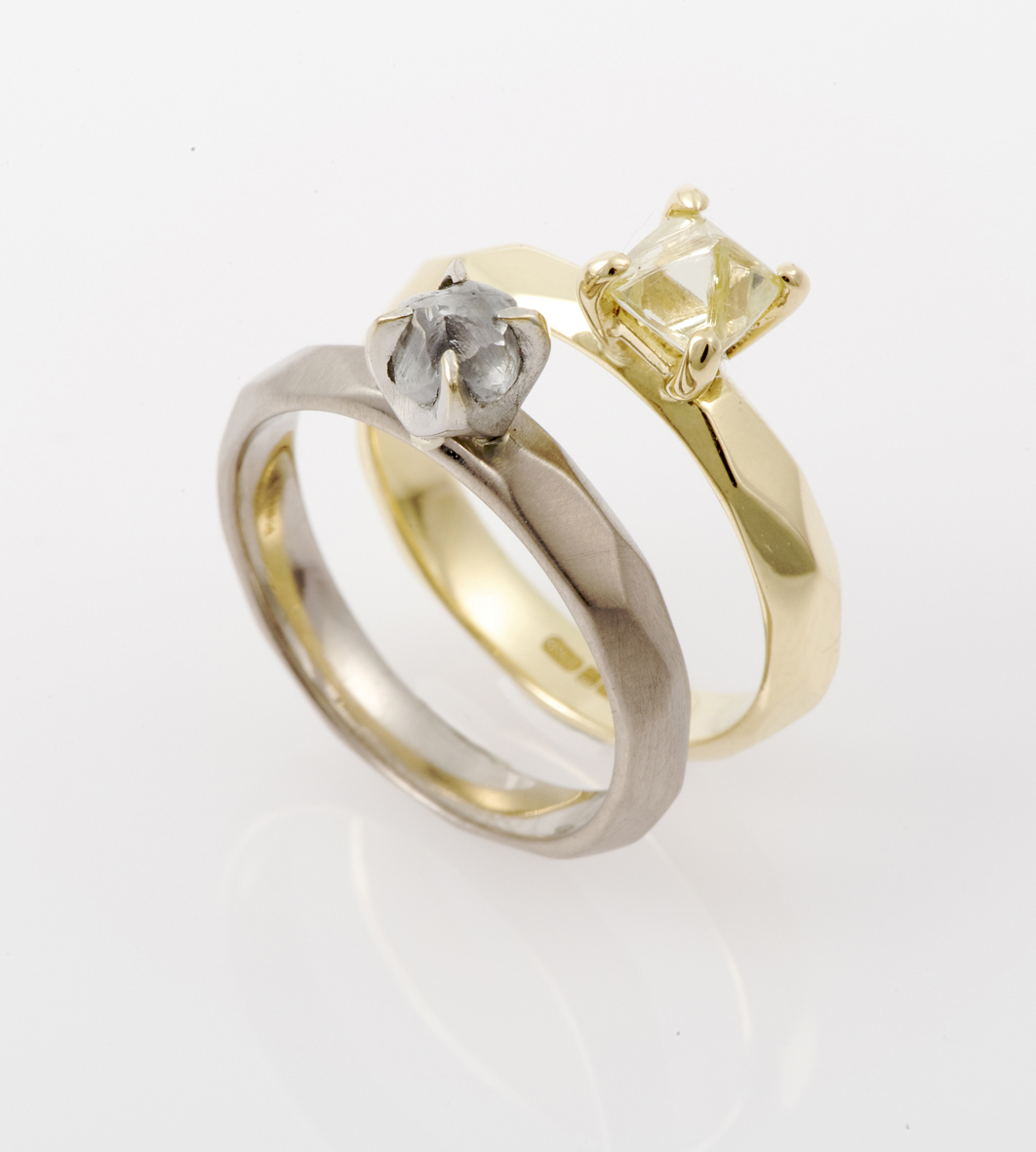 Beauty Without Sacrifice- Ethically Sourced Stones

We at Baroque have always supported the ethical side of our practice and it is important that where ever possible our stones are conflict free. Since the Kimberley Process was launch in 2003 we can now confidently say that all of our rough diamonds are ethically sourced and non conflict stones. As well as remaining committed to non conflict schemes such as the Kimberley Process and Ruby Fair (who source fair trade rubies in Tanzania) we also promote the use of green recycled gold with all of our collections are made here in Brighton. The overall outcome is a piece of jewellery which whilst be a design of beauty is also ethically sound.
Beauty And Size
This diagram illustrates the planning process a piece of  rough diamond will normally undergo. Cutti

ng diamonds to the best possible cut usually means losing diamond carat weight in the cutting process. When considering a polished diamond there is always a compromise between beauty and size however with the uncut diamond nothing has been taken away and you will find you have a lot more rock for you money.
This Bespoke Engagement ring made exclusively by Baroque has a central rough cut diamond weighing approximately 7 carats, a beauty of a stone by any standards!! Again mixing up the rough and the polished to capture elegance and refined designs with raw materials.