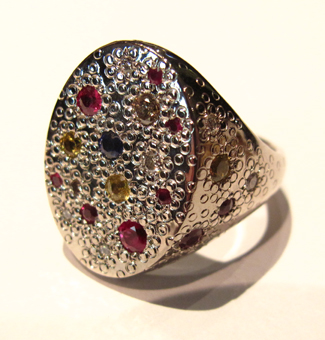 Karl Jones, owner of the Brighton Moshi Moshi we admittedly frequent far too often came to us looking to get a bespoke commission for his and his wife's anniversary; husbands and boyfriends take note!
Our goldsmith Jason thoroughly enjoyed working alongside Karl through the commissioning process from the design consultation, gem sourcing, first prototype (made in silver), to the completed 18ct rings with set precious gems.
The end result: Karl and Sehaila were absolutely delighted with the his and her signet ring set. Karl went with the 18ct White Gold signet with a grain and textured setting of coloured Diamonds, Sapphires and Rubies whilst she chose the same design in a warmer 18ct Yellow Gold.
The team want to thank Karl and Sehaila for bringing such a delightful project to Baroque and for keeping us fed and happy for so many years!
Check out his twitter post on our page or on Moshi Moshi's.