The savvy and outlandish design duo which make up FSA are injecting a cheeky indulgence into the fashion scene with their luxury award winning collections.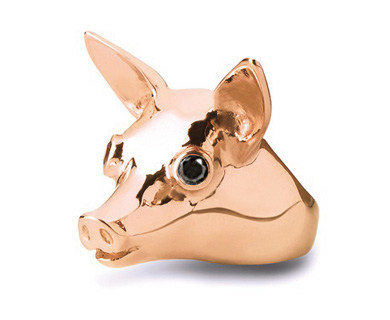 Tarting itself about town amongst a selection of the sexiest faces , the Pig Ring by FSA (Francesca Sybilla Augusta) is popping up in all the right places and getting noticed seems to be no problem for this charming and chunky must have which just DEMANDS attention.
Fans of FSA include trend setters Zoë Saldana of Avatar, Rock Chick Kelly Osborne and DJ Presenter Fearne Cotton… they just cant get enough of FSA's cheeky Piggy!
Looking beautifully stylish at the  Glamour Awards 2010…Fearne Cotton flashes her beloved Pig Ring. A jewellery Magpie she is always one step ahead..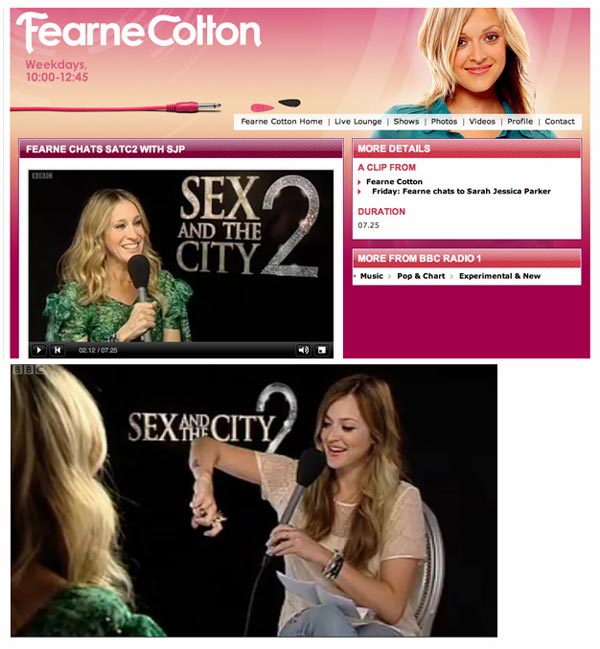 Donning the golden pig during an interview with SJP.
Click here to see the full interview.
Baroque Bespoke Jewellery has given this popular Pig prized position and you can now see it in all of its pride and glory in our new summer window display.  We were quick to get our hands on a selection FSA's  'Infamous Season' collection which was launched in 2008.  As well as the iconic Pig Ring we are also showcasing the Beguiling Dali Bangles and the eye-catching Dali Facet Studs. Check out the FSA official site to see more…
It certainly has been a fast paced road to starrdom for the FSA design duo, Zinzi Coetzee and Ursula Horton who since graduating from Central St. Martins in 2008 have received critical acclaim within the industry- Nominated as this years 'New Designer Of The Year' and winners of the 'Coutts New Jewellers Award' in 2009 FSA are hitting the design world in a BIG way.
"FSAugusta have created an attention seeking fun collection- the one thing that everyone in the market place is looking for"
STEPHEN WEBSTER, 2009
What a Popular PIG!!