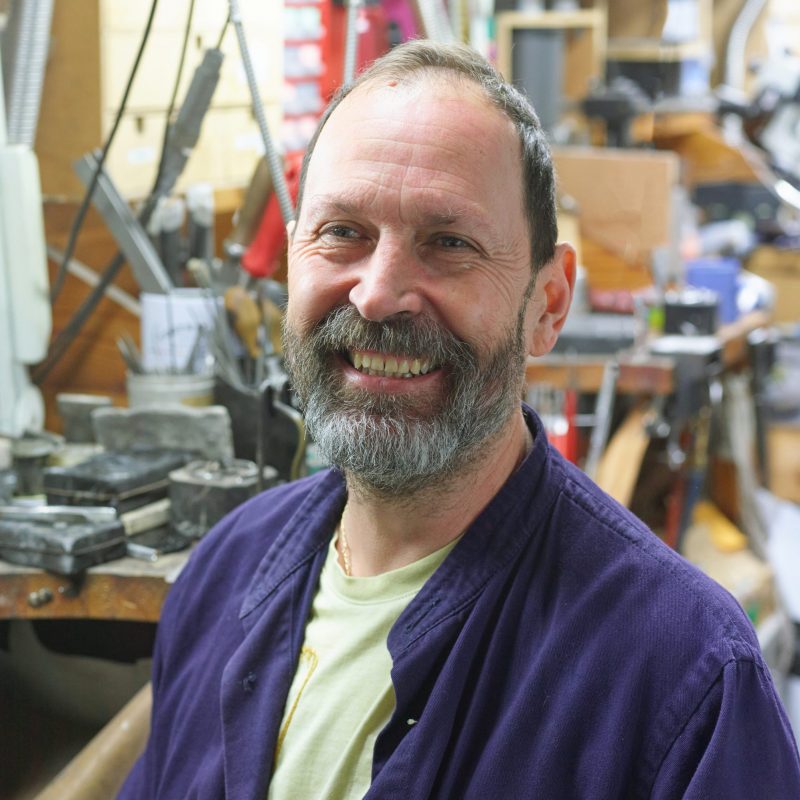 Jason
Co-Director and Head Goldsmith
Jason is our award-winning head goldsmith and visionary designer here at Baroque. His style is  extraordinary, with a nod to all things rock and roll, underlined by incredible technical ability.
Nothing is too avant-garde for Jason, and our in-house collections showcase his passion for making jewellery that breaks the mould. Whether it's a raw un-cut diamond, or a cosmic smokey quartz, Jason works his magic to create the perfect jaw dropping mount to suit.
One of his favourite Baroque creations is a stunning rose gold cocktail ring, featuring a beautiful Tahitian pearl delicately wrapped in champagne coloured diamond set leaves.
Jason rocks the best beard in Brighton, and is the most patient teacher when passing on his skills and knowledge to our in-house team of goldsmiths.
Pippa
Co-Director and gemstone forager
Pippa is at the helm behind the scenes at Baroque HQ. She is an extremely talented maker, but now focusses her time on creating incredible bespoke designs and sourcing one of a kind diamonds and gemstones for stock collections or special one-off pieces for our customers.
A self-described 'magpie' she loves the challenge of hunting for the perfect stone, so when someone has a really unique request Pippa will immerse herself in the task.
Her favourite Baroque creation is our smokey green pear shaped diamond ring, set with black diamonds in a filigree style mount – but she has so many favourites that its hard to pick just one.
She is well known for her signature curly hair, being effortlessly cool in all situations and her eternal love for sequins. If she isn't here at the shop in control of all aspects of Baroque's working day, you will find her sea swimming come rain or shine.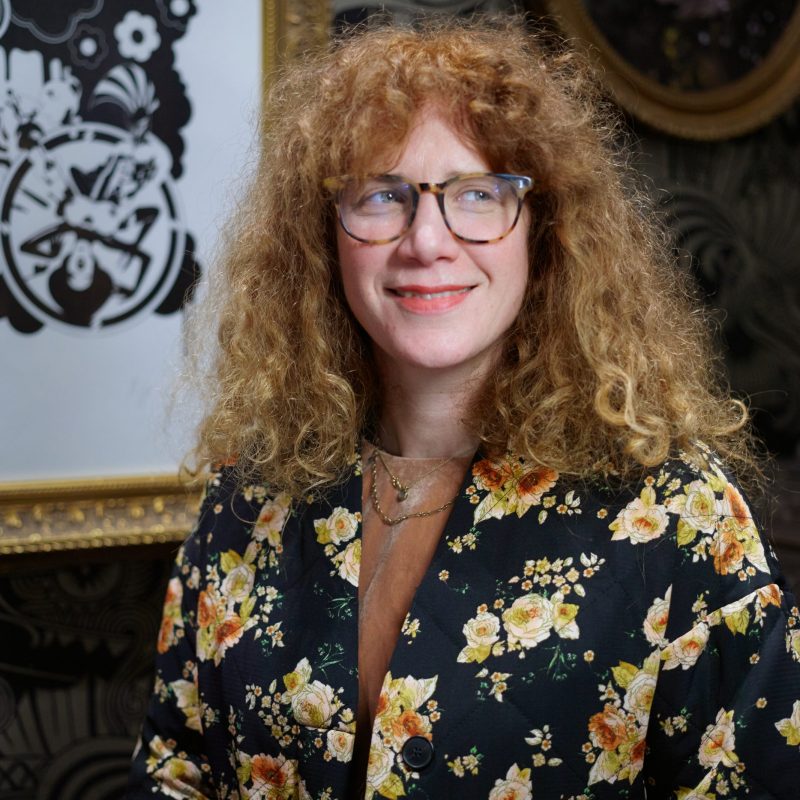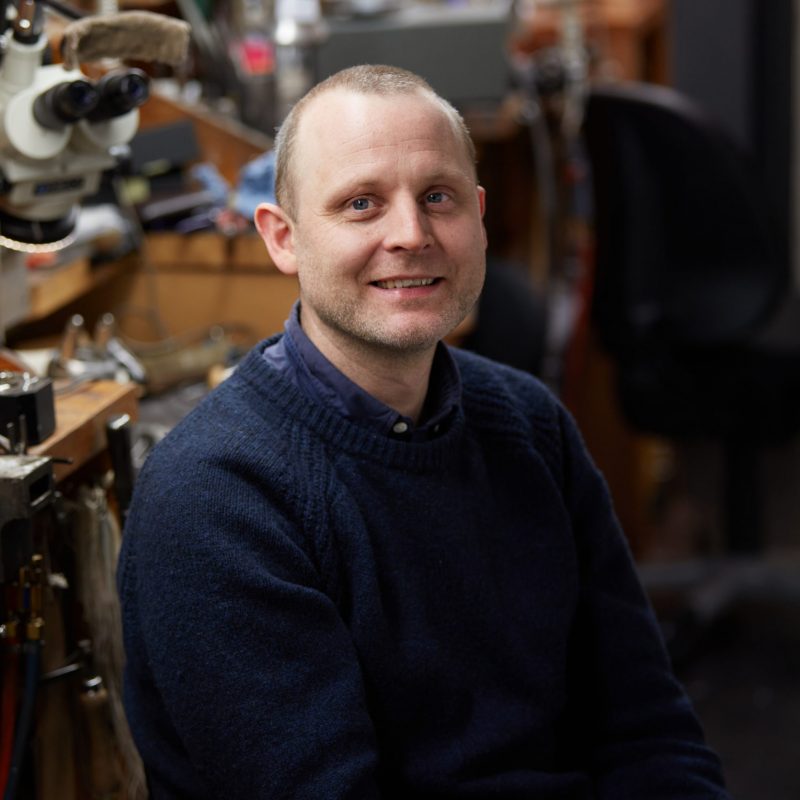 Moonie
Stone setter extraordinaire with the roundest face
Andy, or Moonie as we call him has been our trusted stone setter here at Baroque since we opened. He has set almost every diamond and gemstone in the shop, and that's a lot of stones.
He likes things to be precise and accurate, with an acute eye for detail which means all our jewellery is finished to the highest quality. His setting skills are remarkable and he has honed his craft to the highest degree, absorbing skills and techniques along the way. Have you seen our French cut eternity rings? They are tiny masterpieces, bravo Moonie.
Undoubtably, Andy's favourite Baroque creation is a pavé set white gold heart ring, set with dozens of white glittering round brilliant cut diamonds set by his own fair hands. The diamonds gently cascade down the shoulders of the ring creating a disco ball of dazzling light.
He loves a barbeque with his two sons, the mini Moons, with pet tortoise Big Mac close by, moving as fast as he can so that Andy doesn't rhinestone his shell.
Emma
Front of house supervisor - Tiny but mighty
The wonderful Emma has been an integral part of the Baroque team since the beginning. She is an incredible designer and works closely with all our customers to bring their bespoke ideas to life.
Her favourite part of the job, apart from receiving parcels of dazzling loose diamonds and gemstones from our suppliers – like a kid at Christmas – is helping our customers with sentimental commissions, sometimes using their own metal or gemstones to create beautiful jewellery pieces which can preserve a memory of a loved one, or to mark a special moment in their lives.
Emma loves designs from the Art Deco period, and her favourite Baroque creation is her very own engagement ring and matching wedding band – a geometric white diamond and blue sapphire ring in white gold, with striking triangle and trapeze shapes, perfectly complimented by a simple V-shape fitted wedding band.
Although she is pint sized, she has the best energy. Always making us laugh and keeping up team spirit.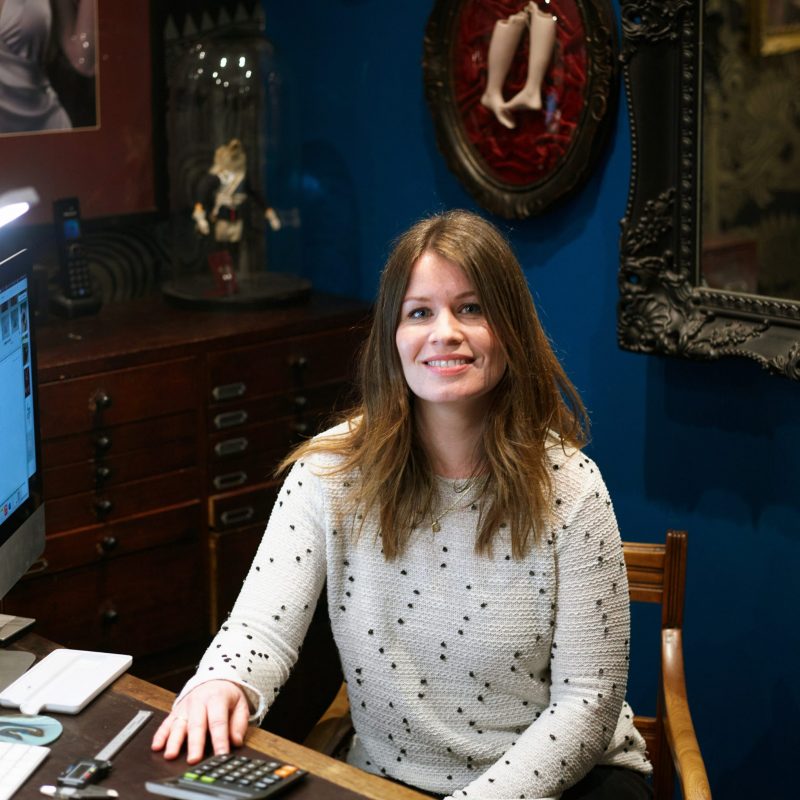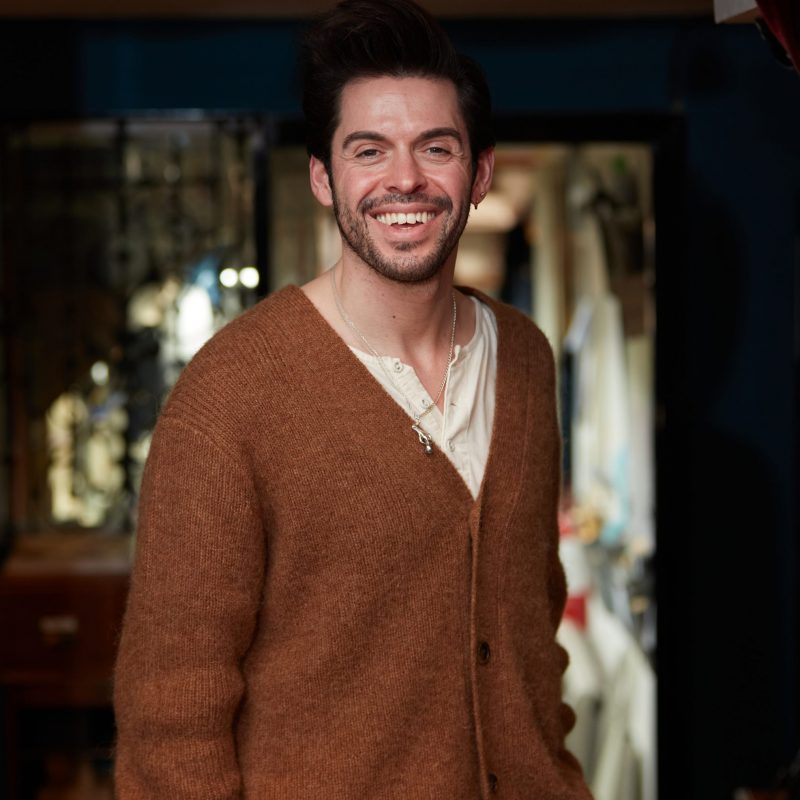 Aaron
Front of house manager and Prince of Charm and Charisma
Aaron is our own little Baroque secret weapon, everyone loves him. He is always happy to meet and greet our customers with a big smile on his face, and his friendly personality and enthusiasm for all things jewellery related makes him indispensable. He's ours, you can't have him.
He loves to chat to our couples during face to face consultations, and his passion to create truly one-off pieces means that no stone is un-turned during the process. His attention to detail is second to none, and the joy he exudes naturally means that after you receive your dream ring you also gain a friend for life with Aaron (he only needs half a pint, so he's a cheap date.)
Aaron's favourite Baroque creation is our black diamond Pirate ring – an incredible over-sized signet ring in yellow gold with a dark and mysterious diamond centre (set upside down) flanked by hand-carved skulls and crossbones.
Aaron's hair defies gravity, and he loves a long black in the morning, as long as its piping hot.
Debbie
Goldsmith and friend to all four-legged visitors to the shop!
Debbie is one of a kind, a real diamond in the Baroque team.
She will take on any challenge brought to her in the workshop with ease and a sense of calm, making sure that the piece she is working on includes all the unique details our customers have discussed. She works on all our Baroque stock collections, and collaborates closely with our stone setter to make sure everything about each piece flows harmoniously.
Debbie loves opals, and her favourite Baroque creation is a rich buttery yellow gold ring with a glorious rainbow hued opal centre, and sparkling diamond pear shaped shoulder stones.
Debbie has her own whimsical jewellery line, which feature pendants of freeform pearl 'clouds' with tiny aquamarine 'raindrop' details – so dreamy. She also is a star baker and makes amazing banana bread and carrot cake.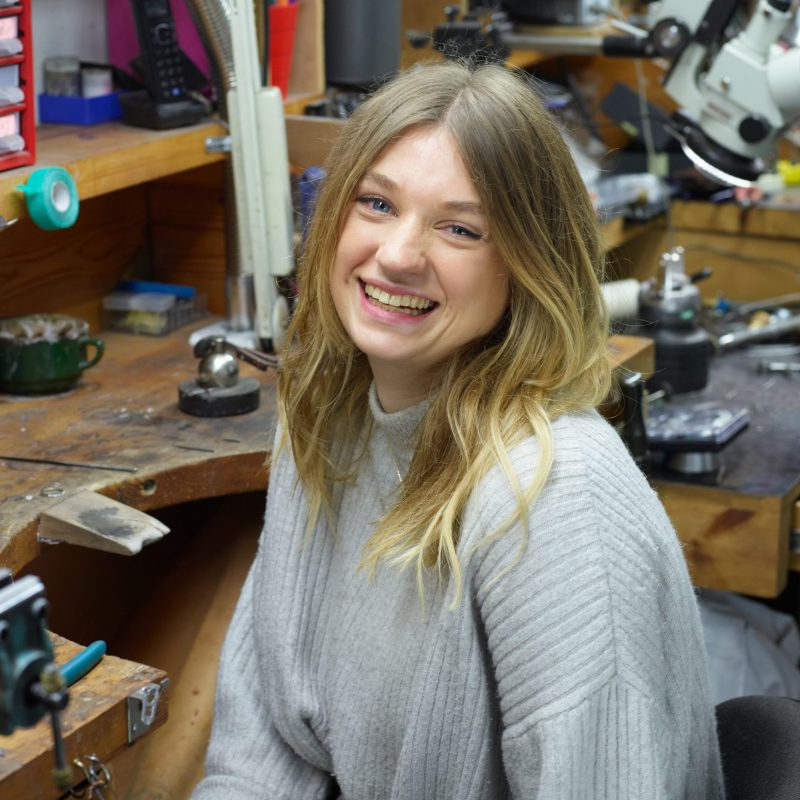 Abi
Goldsmith/front of house - Queen of trousers
Abi joined our team straight from graduating and has become a key workshop team-member, front of house sales person and general all-round superstar here at Baroque.
She not only is an incredible maker, but she has a keen eye for design and is on hand to assist our customers with their bespoke commissions. She loves collaborating with couples to help create their dream ring, offering valuable technical advice thanks to her skills honed while working on the jewellery bench.
Her own jewellery line 'Familiar Faces' will make you smile, 'Grumpy Frank' being a favourite with his graphic forlorn features.
Her favourite Baroque creation is our our sea-green beryl and pink sapphire trilogy ring set in rose gold, a classic ring with a quirky, vibrant and colourful twist.
She has a fabulous personality (to match her fabulous glasses) – and her personal jewellery collection is wondrous to behold – she will wear at least ten rings on each hand each day without fail.
Kitty
Goldsmith and Stone setter - part-time mermaid
Kitty is as cool as a cucumber. She is a superb stone setter and jewellery maker, and works on the bench alongside Jason, Andy and Jon crafting our beautiful collections and bespoke one-offs. She designs her own jewellery too, that features clean lines and simple forms, with gemstones in green and blue hues and pastel pinks and lilacs – a subtle nod to her love of the sea and sunsets.
Her favourite Baroque creations are ones based on organic textures and details, like our Molten rings and our rustic Salt and Pepper diamond pieces. Her favourite ring being an asymmetric double salt and pepper diamond hexagon 'twin' ring, with tapered baguette and round diamond shoulders in rich yellow gold.
When she's not in the workshop you can usually find Kitty in, on or near the sea. She's a keen surfer and if there's a nice swell on the horizon she won't be far away.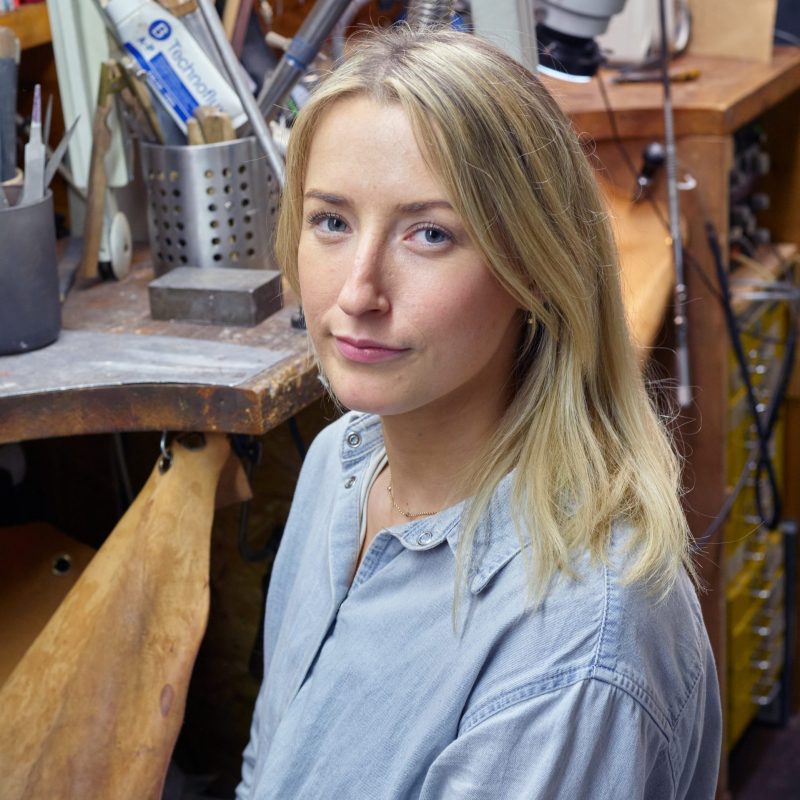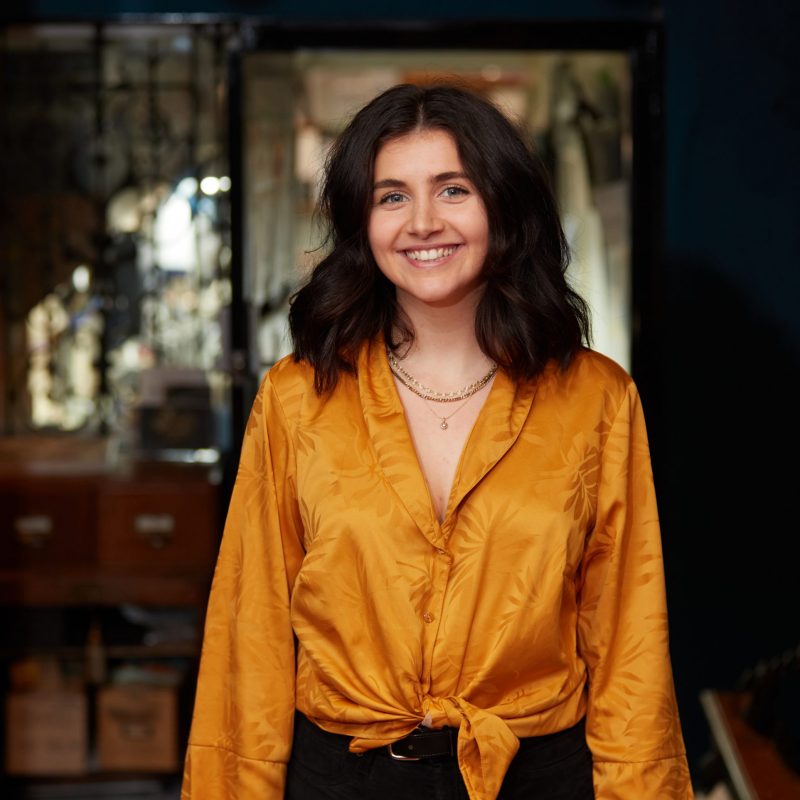 Yazmin
Front of house/Fairtrade gold Ambassador - leopard print lover
Yazmin is part of our friendly and approachable front of house team. She runs wedding band and bespoke engagement ring consultations, helping customers design ethical and sustainable jewellery using Fair Trade or recycled gold and ethically sourced diamonds and gemstones.
She shares our company ethos in creating jewellery which is mindful of how we treat the planet, while creating 'future heirlooms' that stand the test of time in their design and manufacture.
Yazmin's favourite Baroque creation is our lab-grown diamond 'Toi et Moi' ring, a duo of astonishingly beautiful diamonds, oval and pear shaped, set in 100% recycled yellow gold.
She makes terrible tea but we forgive her as she has an infectious, fun-loving personality. When she isn't here at Baroque she is channelling her inner eco-goddess as a Yoga teacher and champion charity shop treasure hunter.
Jon
Goldsmith and stone setter
Jon is an amazing craftsman, with an abundance of knowledge about the science and technique of gold-smithing. Once he's had his morning coffee he is off, creating intricate stock and bespoke pieces from start to finish with incredible flair and precision. Give him a challenge and he will accept it, and he blows us all away with his skills such as detailed hand-engraving.
His favourite Baroque creation is a bespoke 18ct yellow gold trilogy ring with detailed filigree under-bezel detail all pierced by hand, set with lab-grown brilliant cut diamonds which dazzled like nothing else!
Jon loves coffee… morning, lunchtime and afternoon! If it's in a mug and it's hot he will have it, maybe that's why he works so hard.